Who are we? How Long have we been around? What is Capture You Videography about?  Well, here's a little bit about Capture You Videography.
This part is all about me
10+ Years of Servicing the Illawarra Region, for our amazing value Wedding Videos and still going STRONG!
How I Got Started
I was asked to film a friend's wedding.  My friends and I have used video cameras in our home studio mockup sets. So we've always been interested in Video Production.  I filmed my friends wedding and edited it.
Since my friends wedding turned out far better than my own $3500 wedding video, I thought to myself "hang on, I can do this!"  So, I went out and bought my first prosumer SONY camera which arrived the very day before a paid Wedding, and I was off and running.
What is the furthest I have gone to film a wedding?
We've been to Fiji – that would have to be the furthest I have traveled to film a Pre-Wedding, Wedding & Trash The Dress film.
Besides Fiji, we started filming weddings in Darwin in 2005.  Since we started, I have now filmed 57 Darwin weddings.  Although my core area is in the Illawarra, Sydney and Highlands regions, we have cold witers here in New South Wales, and the weather in Darwin during this time is always AMAZING! 30 degrees+
My AIM was to provide good quality wedding videos to the top end that didn't have a regular video team in place.  I really love filming weddings in Darwin.  That sunset is always the same, yet always so different each time.
We can't thank our Darwin couples enough – so many of them reccomended us to their families and friends and it's been this way still to today.
Most of our work is carried out in New South Wales, so we spend most of our time in areas like the Illawarra and Southern Highlands, Gerringong, Nowra, and far south coast like Merimbula Sussex Inlet, Jervis Bay.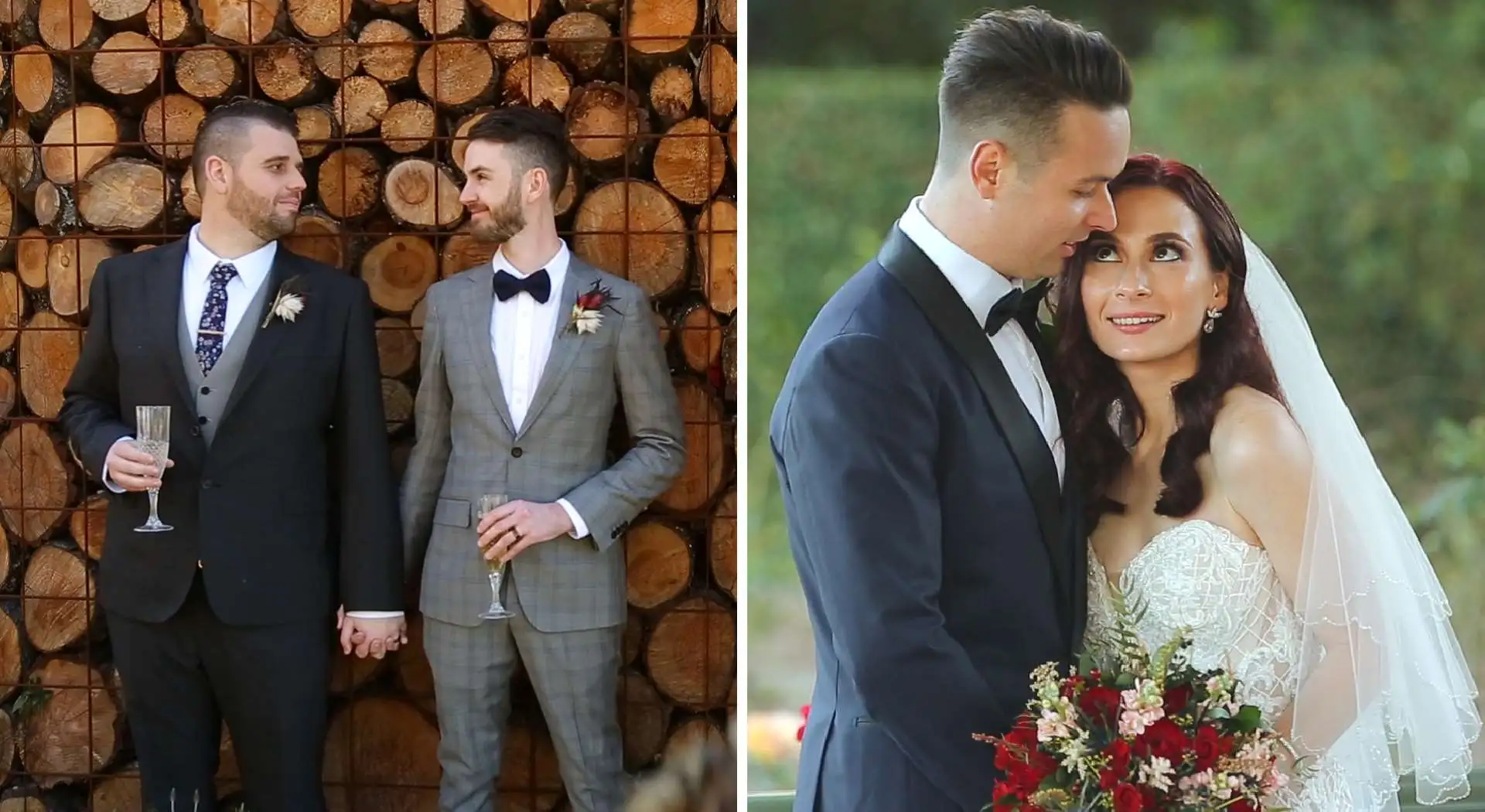 LEFT : Trent & Morgan     RIGHT : Krystal & Benjamin
How would I judge the QUALITY our customer service?
I speak a bit about this in our FAQ area on the website.  But it's a really important question so I thought I would put that here as well as it is ABOUT US.  I always mention in our emails that if you have any questions to ask, just ask – and you can enjoy an answer back within minutes in most cases.  We've all got phones in our hands or pockets these days. And I for one know how good it feels when you get responses right away when you need help.
So, go ahead – send me a message and test me out!  Of course if I have a camera in my hand, or I am on the phone – you can expect a reply right after I have finished. 
Because we think you're worth it!
Have I ever thought about doing something else?
Once the ball started rolling, and we gained booking after booking, and we became more and more popular in the Illawarra, there was no stopping me.  I mean, what job let's you attend a gathering of nice, well dressed people and couples who say their i-do's at their wedding, and you get to be a part of all of that.
I get to film it and although there's a great amount of hours involved in the editing of a wedding film, the gap between working for someone V's working for myself grew greater each month.
Once I cut ties with my regular employer to persue my love of wedding videos, I honestly couldn't see myself doing anything else anymore.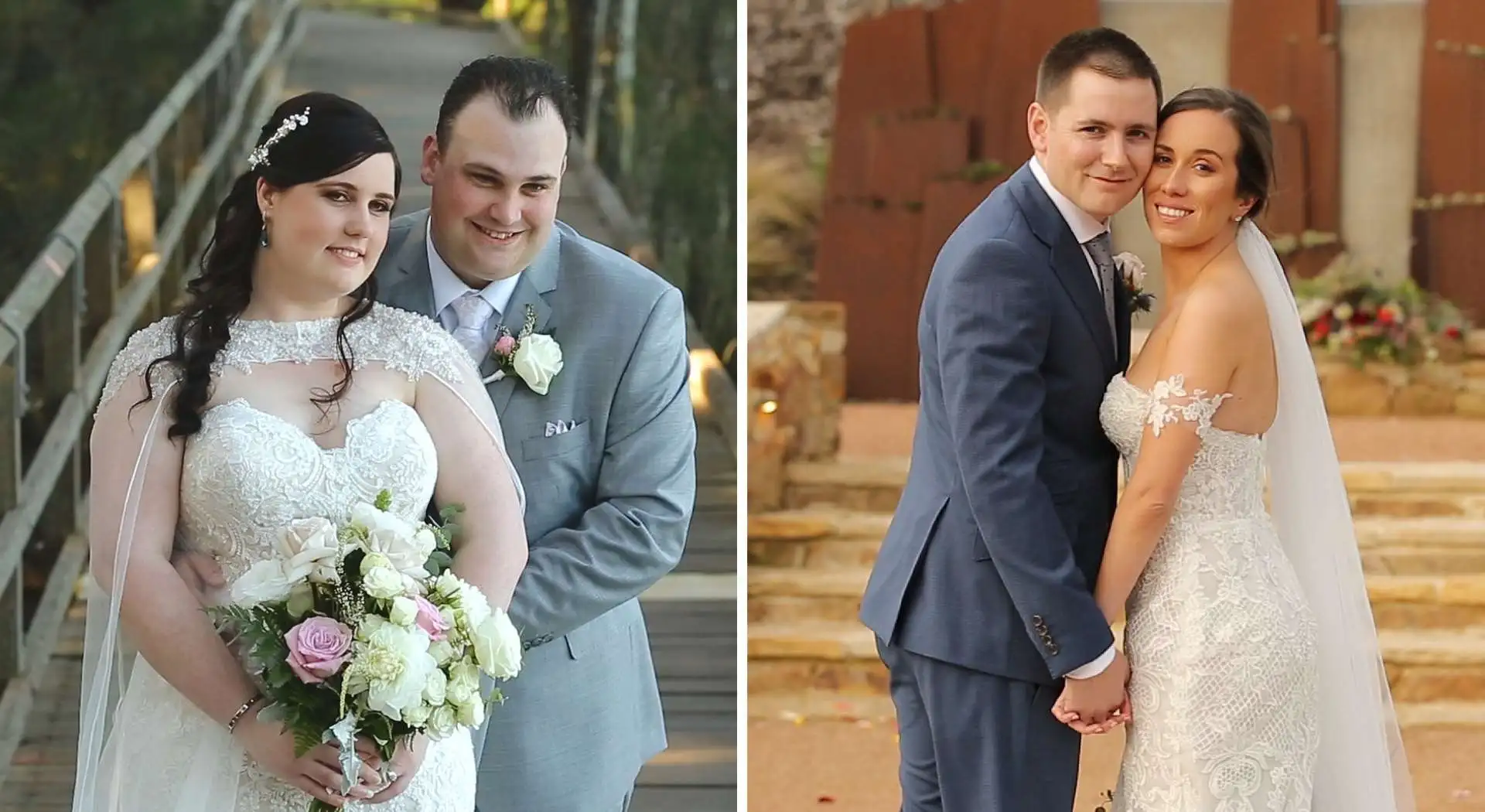 LEFT : Nathan & Stacey     RIGHT : Samantha & Chris
Besides Weddings, what else do I LOVE to film?
Being a "wedding videographer" doesn't mean we just film weddings.  As a matter of fact, it places us at a pretty high standard of camera operator skill set than most other camera operators.  We love filming Dance Concerts and really enjoy editing them just as much.
We pay a lot of attention to detail when it comes to filming high-paced dance events.  It gets really tricky when you have dancers blasting out from one part of the stage and then the other.  If a camera operator is not able to anticipate what could happen based on the music, the edit can start to look very basic.  This is where we've really excelled over the years.
We've worked very hard to establish ourselves in the Illawarra, Wollongong area to be regarded as one of the best videographers in the business.  We film for some of the best dance companies and they love our product.
Our work speaks for its self.  Our customers love our personality as well – which is super important.  I am a paid service of course, but to be able to relax in front of a camera pointed at you knowing the paid person pointing the camera your way is super cool and fun about it all, you tend to just relax as well and everything looks nice and natural on the screen.
We film funeral services as well, although I don't post about them, we try to be just that little bit tactful.  We film corporate interviews, corporate product or company information videos, trade shows, conventions, real estate, explainer videos, and more.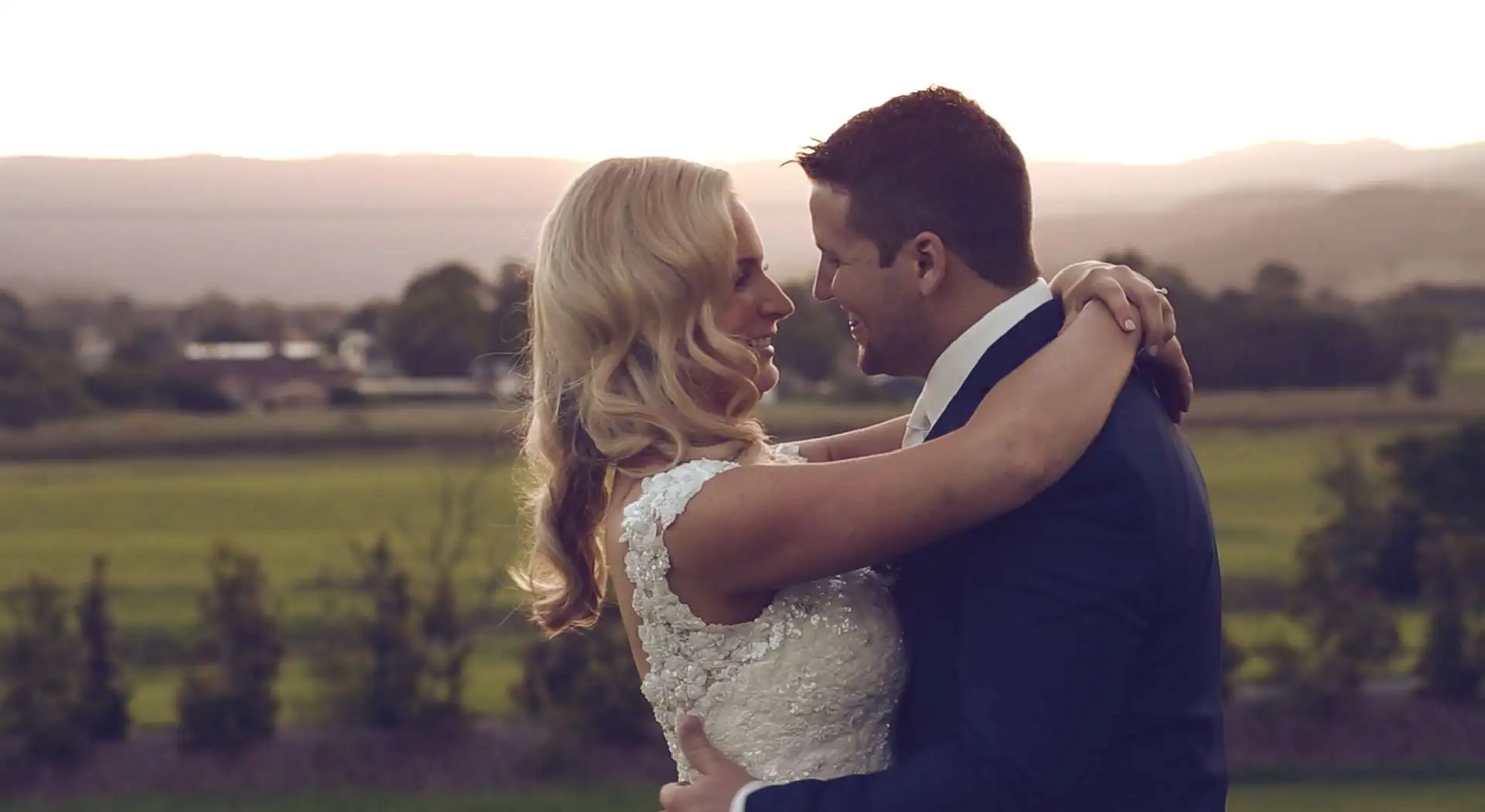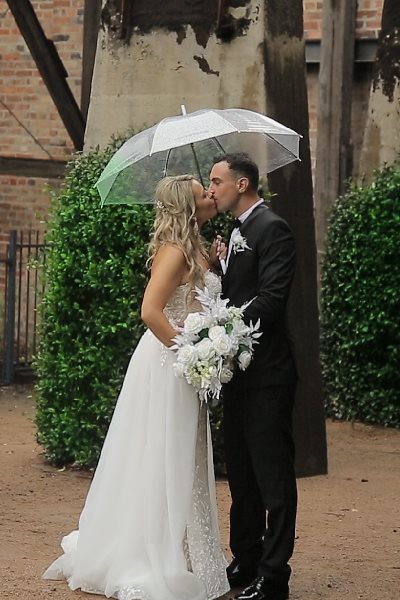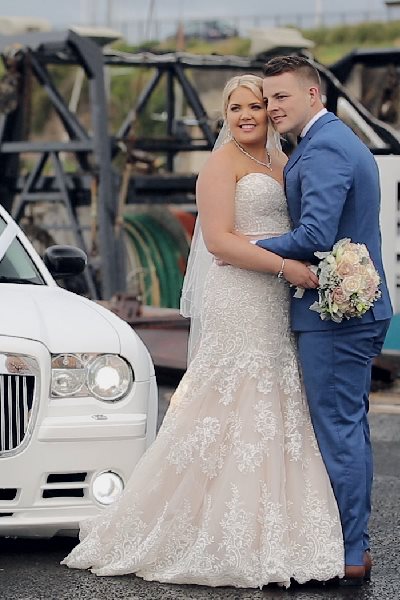 Shane.. What can I say!!! Your absolutely frikken AMAZINGGGGGGGGG!!!!!!!! ❤️ ❤️ ❤️ ❤️ Your personality and your vibe makes the whole experience so fun and easy!! It felt like we have been friends for years. Thank you so much for everything on our big day!! You went ABOVE AND BEYOND our expectations.. And in saying this without even seeing anything just the feeling you have left us with. Thank you for being so frikken awesome!!! 😘❤️ Love always Dee and Robbie.. P. S I hope you like the pics of the back of your head 😉😂
Here are a few shots of me at work
If you're ready to start planning your next project or wedding day, please get in touch with me so we can commence the ideas part of the process.  We understand the whole planning phase can be pretty daunting, but if you lean on industry professionals such as ourselves, you'll spend much less time trying to figure it out all on your own.
Hello, I'm Shane
A Videographer in Wollongong
we can bring clarity to your vision
Whether you want to create a video for your Facebook Banner, Website Products or Service Video, Client Interviews, Explainer Videos, Weddings, Formal Events, and so on, Capture You Videography is here to work closely with you to provide you with a high quality video to get your ideas to the big screen and we'll work with you until it's just perfect.
"Make Your Content a Priority!
we certainly will"
so let's fill this blank space together!
We have all the gear to get the job done.
From a huge range of quality lenses to audio recording equipment, professional lighting, camera stabilizers and so on – There's no need to hit a roadblock when we start working for you. A taste of what they are "saying about us"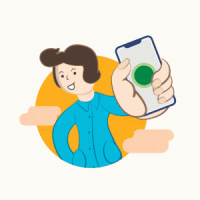 So about our wedding video,  where do I start?
With a big fat thankyou!!  You captured our day better than I would have imagined!  We laughed, I cried, and both just reminisced on a day that we will never forget.  And even if we do forget it we've now got the perfect reminder.  Thank you for capturing 'us' and going above and beyond to get it out to us 🙂 .  I will be sure to recommend you to all brides-to-be.  It was SIMPLY PERFECT!!!!
Hey Shane, WOW omfg we are so in love with our wedding video we stayed up till 1.30am watching it. It brought back so many memories for us and we have never laughed so hard... Just wanted to thank you from the bottom of our hearts for the amazing work you have done we really appreciate it. We were really overwhelmed with how good it turned out you did a great job and the music was perfect the while way through 🙂 THANK YOU SO MUCH
Just received our wedding video today and we could not be any happier.  Words cannot express how much we love it.
Shane is such a fun and easy-going guy who helped create such a positive vibe on the day.  It was an absolute pleasure having him capture our special day. 
I would highly recommend Capture You to anybody who is planning their special day.  You will not be disappointed.
T H A N K Y O U   seems to insignificant to show appreciation for what wonderful memories you have captured from our extremely special wedding day.   From day one you made us feel at ease and know we had chosen the right videographer.  For us it was about personality and being comfortable with the person we choose to capture our day.... Your beaming personality, your fun nature and of course professionalism made it an easy decision.  After seeing the finsihed product today it blew our expectations out of the park.  You are a brilliantly talented man Shane...  Don't lose that brilliant sole of yours.  You have a rare talent and love for what you do.  Keep making every bride and groom as happy as what you have successfully have made Mark and I.
Just want to tell the world your absolutely amazing at what you do! Absolutely LOVE our highlight video and so excited for the rest to arrive! 
Thanks for capturing our special day!!  I still remember reading your first email and knew instantly you would be a great fit for our day and you definitely didn't disappoint!! 
I can't recommend you more!!!! 
So Sad but so happy.. We received our wonderful wedding video from Shane at Capture You Videography... We are sad because all our bits and pieces, photos, marriage certificate, and now video have all arrived and there are no more "wedding bits" to look forward to. BUT we are so hgappy because now we have this beautiful video to watch whenever we want to cherish the memories! To any future Brides out there, I cannon recommend wedding videography enough. It is worth the pennies whether you are doing your wedding on a beer or champagne budget, make sure you have it recodeded because there will come a time particularly right after your honey moon, when you want to re-live every detail over and over again! And if you do not make the smart choice to hire a professional videographer, please contact Shane Hintz from Capture You Videography. She is without a doubt, extremely good at what he does, but he is the most relaxed and at the same time enthusiastic person. I could not have asked for a better videographer, he made us laugh so much throughout the day and was even the one the boys turned too when they had no idea how to tie a tie!! He is an all round handy person to have on the day. Shane captured so many unposed and natural moments and always had a way to make our bridal party laigh and laugh and funny ideas to capture on camera, which makes for a really memorable video! From go to wo Shane has been on board and constantly in touvh 100%, which being an interstate customer was very re-assuring! Thank you Shane and your team for an absolutely out of this world video that will be charished forever and shown to kids and grandkids and basically anyone who I can pin down and make watch! Your previous Darwin Bride nailed it when she said : "Seriously, a Bride's dream to deal with!"
Shane!!  You are absolutely amazing at what you do!!  We finally sat down and watched the wedding video with mum and dad and OMG it is incredible and effing awesome and every other word to describe it !!  We were laughing and crying and ooing and aaahhhhhing and yes it was so good.  You are a master at what you do and I have shared the link for the highlight video with all our family and friends so they can watch it to coz Ijust wanna show it off!!  
So as you can see, we are super duper happy with your work and cannot thank you enough!!!
WANT TO READ MORE TESTIMONIALS?
We have so many reviews, we can't fit them all in here.  So we've got a home setup for a bunch of other sweet testimonials from our beautiful couples.