We Create Beautiful Wedding Films You're Going To Fall In LOVE With
Your search stops here!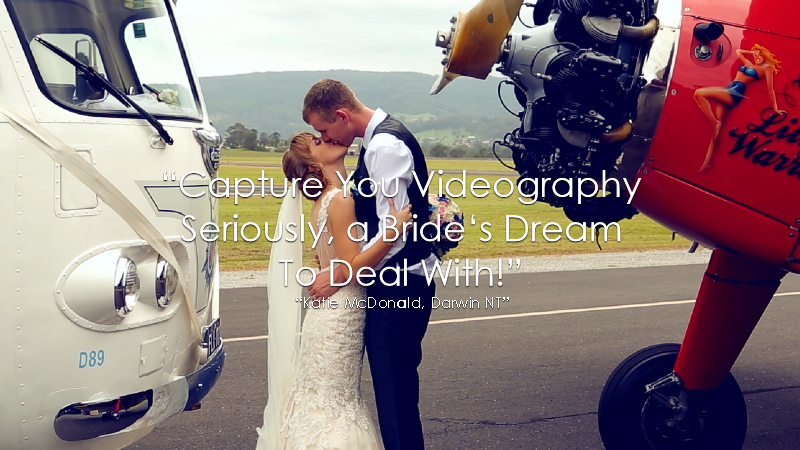 Let the team at Capture You Videography help you to celebrate one of the most important days of your lives.
The team at Capture You are professional and have years of experience in capturing weddings from as far as Darwin to Canberra and in all kinds of weather.
Come see for yourself why so many trust in our services. Located in the Wollongong area, we're not far away to catch up and see why so many of our clients keep telling us that we are "Seriously, a Brides dream to deal with!"
Capture You Videography travels across the country to be with you on your wedding day.
We're not limited to weddings in Australia either!
Bali, New Zealand, Hayman Islands, Fiji or even Hawaii – wherever you like.
The information you provide will help us formulate your quote based on your needs.  Our Packages Page is a guide only. If one of the three packages suites you, then you're good to go, but if you've got something else in mind, let us know so we can price it just right for you!
Once you submit your enquiry, we'll get back to you pretty quickly, so – sit tight because we won't leave you waiting!
We cover all kinds of areas such as Corporate, Event, Dance, Memorial, Live Broadcast and so on.
Capture
Capture the day you've been dreaming of your whole life
Create
We help create your unique love story to remember the moments that make life worth living
Remember
Share your special day with all your family & friends
CREATIVE, SMOOTH, FUN, AND JUST PRETTY DARN AWESOME!
CREATIVE, SMOOTH, FUN, AND JUST PRETTY DARN AWESOME!
We've loaded up our website with heaps of pics from footage, wedding films, information about us and stacks of ideas to get your wedding planning and creative magic underway.  From our videos, you can see just how creative we are with our wedding films.  
We don't just point a camera in your general direction and hope for the best.  Everyone has a purpose in life, and we think creating beautiful wedding films is ours.
 We'd love to have a meeting to discuss your ideas. Capture You Videography takes your ideas seriously. 
If you are not sure what you want, we'd be more than happy to show you a list of our favorite films and we can use that as a starting point.
Ever known someone who was always just that little bit late, always forgot what was arranged, always lagging behind the line?  That's not us!  We are SUPER RELIABLE.  We'll be early to appointments, and ready with our cameras to start rolling. 
Our motto is "Seriously a Bride's dream to deal with!" We didn't earn this motto by being anything less than reliable, friendly, creative, and passionate.  When you have us filming for you, all you need to do is relax and leave it all to us, because we know all you want to do is enjoy your day. 
The planning is over – so enjoy everything and leave the rest to your wedding supplier workforce.
Check out our TESTIMONIALS.  You can easily see from reading just the first couple that we are honest about the love of our work here at Capture You Videography.  We like to think we have a humble personality.  We're often putting the needs of our customers first. 
We like to focus on the work rather than ourselves.  We love what we do, we don't worry about what the rest of the world is up to and we stay in our own lane. 
We'll listen to what you have to say and we'll go about doing our very best to ensure we deliver for you.  Let's meet and have a friendly beverage of your choice to discuss your big day.